"PLANET POSSIBLE" - NATIONAL GEOGRAPHIC
We embark on a journey in search of stories and nature, to share through the experience of our main subjects different ways of interacting with our planet. Inspiring stories that are part of the change: discovering our planet, connecting with it, taking care of it and preserving it. Audio in Spanish with English subtitles.
​​​​​​​
"OTRO PLANETA ES POSIBLE" - NATIONAL GEOGRAPHIC
Emprendemos un viaje en busca de historias y naturaleza, para transmitir a través de la experiencia de nuestros protagonistas otras formas de convivir con el planeta. Testimonios inspiradores que son parte del cambio: descubrir nuestro planeta, conectar con él, cuidarlo y preservarlo. Audio en español con subtítulos en inglés.
PHOTOGRAPHING WATER TO LEARN ABOUT THE SEA
We visit the Mediterranean to meet Alex Postigo (@thefrogeye), a water photographer who, together with his family, has created TIC, an organization for the protection of the sea. With his photographs we learn to appreciate every moment we live and get to understand why this medium is so crucial for our planet.
FOTOGRAFIAR AL AGUA PARA CONOCER EL MAR
Nos acercamos al Mediterráneo para conocer a Alex Postigo (@thefrogeye), un fotógrafo del agua que junto a su familia ha fundado TIC, una organización para la protección de los mares. Con sus capturas aprendemos a observar cada instante que vivimos y entender aquello que nos ofrece un medio tan importante para el planeta.
RURAL AWARENESS THROUGH WALL MURALS
We follow Lily Brick (@lily__brick), an artist from Lleida who vindicates the return to rural life through her murals. We accompany her in the adventure of painting from a river on a kayak in her research of new techniques with natural pigments.
CONCIENCIA RURAL A TRAVÉS DE LOS MURALES
Acompañamos a Lily Brick (@lily__brick), una artista de Lleida que reivindica la vuelta a lo rural a través de sus murales. La seguimos en la aventura de pintar desde un kayak en su investigación de nuevas técnicas con pigmentos naturales. 
​​​​​​​​​​​​​​
LOVING NATURE THROUGH A VAN
We travel to Asturias to meet Sergio Garcia (@Van_Traveller), a passionate of the van life and all the places where he decides to go. With him, we learn that contact with nature provides us with unique experiences that makes us feel and make us realize the need to respect and protect it.
AMAR LA NATURALEZA A TRAVÉS DE UNA VAN
Viajamos hasta Asturias para encontrarnos con Sergio García (@Van_Traveller), un apasionado de la van life y de todos los rincones a los que se propone llegar. Con él, aprendemos que el contacto con la naturaleza nos proporciona vivencias únicas que hacen vibrar y concienciarte de la necesidad de respetarla y protegerla. 
​​​​​​​
THE URGENCY OF PROTECTING THE MEDITERRANEAN
We cross the Balearic Sea to meet Noelia Hernandez (@oceannoe), an oceanographer and National Geographic explorer who is returning from taking part in conservation projects in the waters off Costa Rica to protect the marine life of the Mediterranean sea.
LA URGENCIA DE PROTEGER EL MEDITERRÁNEO
Cruzamos el mar Balear para encontrarnos con Noelia Hernández (@oceannoe), una oceanógrafa y exploradora de National Geographic que regresa de formar parte en proyectos de conservación en las aguas de Costa Rica para proteger la vida marina del Mediterráneo.
PROTECTING BEES
Bees are fundamental for our subsistence but their population is in decline. We travel to Alicante to meet Paola Vecino from the association El Rincón de la Abeja, which works to protect wild bees in areas such as El Clot de Galvany, and Álvaro Marcos (@entreabejas) a beekeeper who practices ecological beekeeping with the black bee in the Palentina mountain with his project Entre Abejas.
La abejas son fundamentales para nuestra subsistencia pero su población está en declive. Viajamos a Alicante para conocer a Paola Vecino de la asociación El Rincón de la Abeja, que trabaja para proteger a las abejas silvestres en zonas como El Clot de Galvany, y Álvaro Marcos (@entreabejas) un apicultor que practica la apicultura con la abeja negra en ecológico en la montaña Palentina con el proyecto Entre Abejas.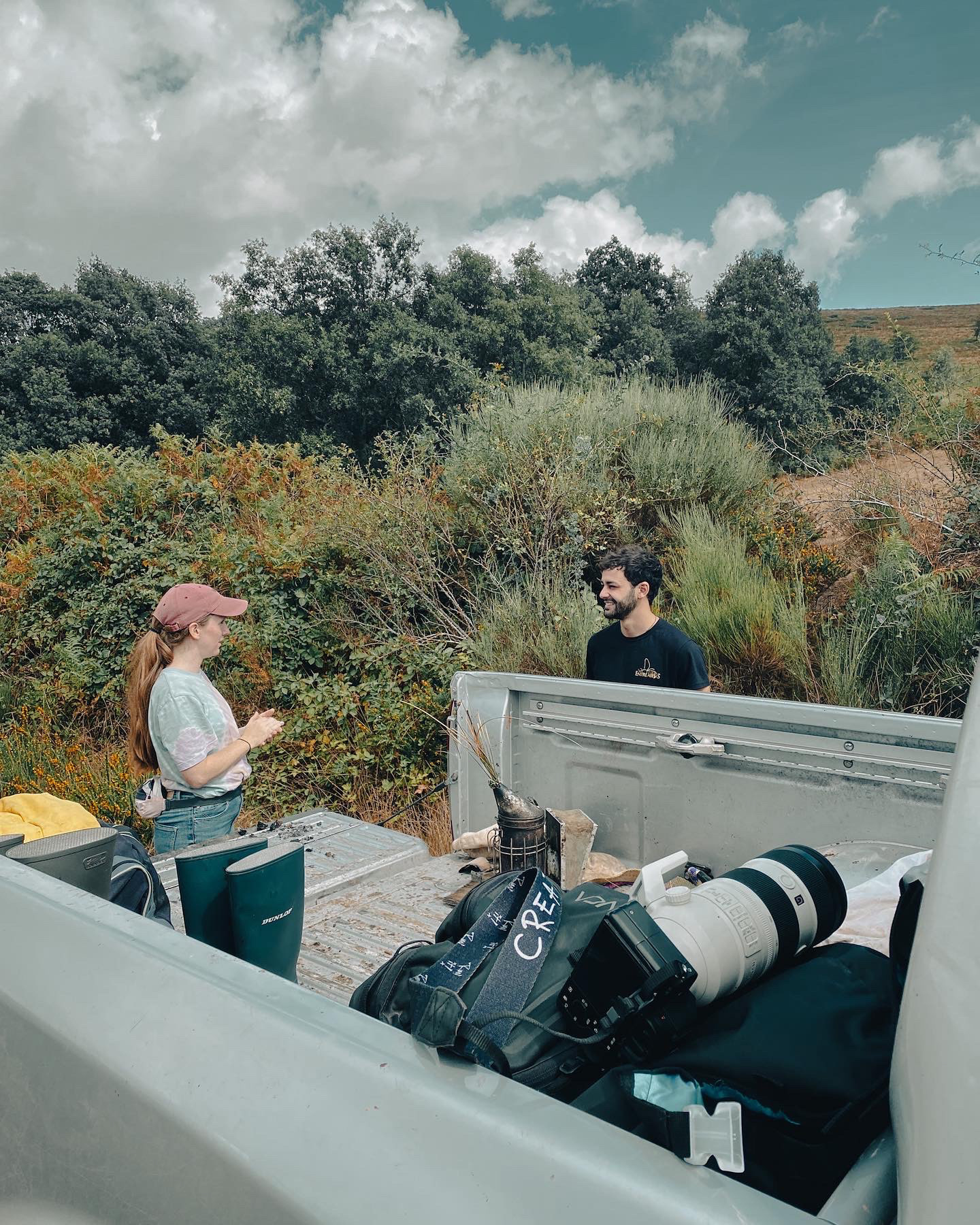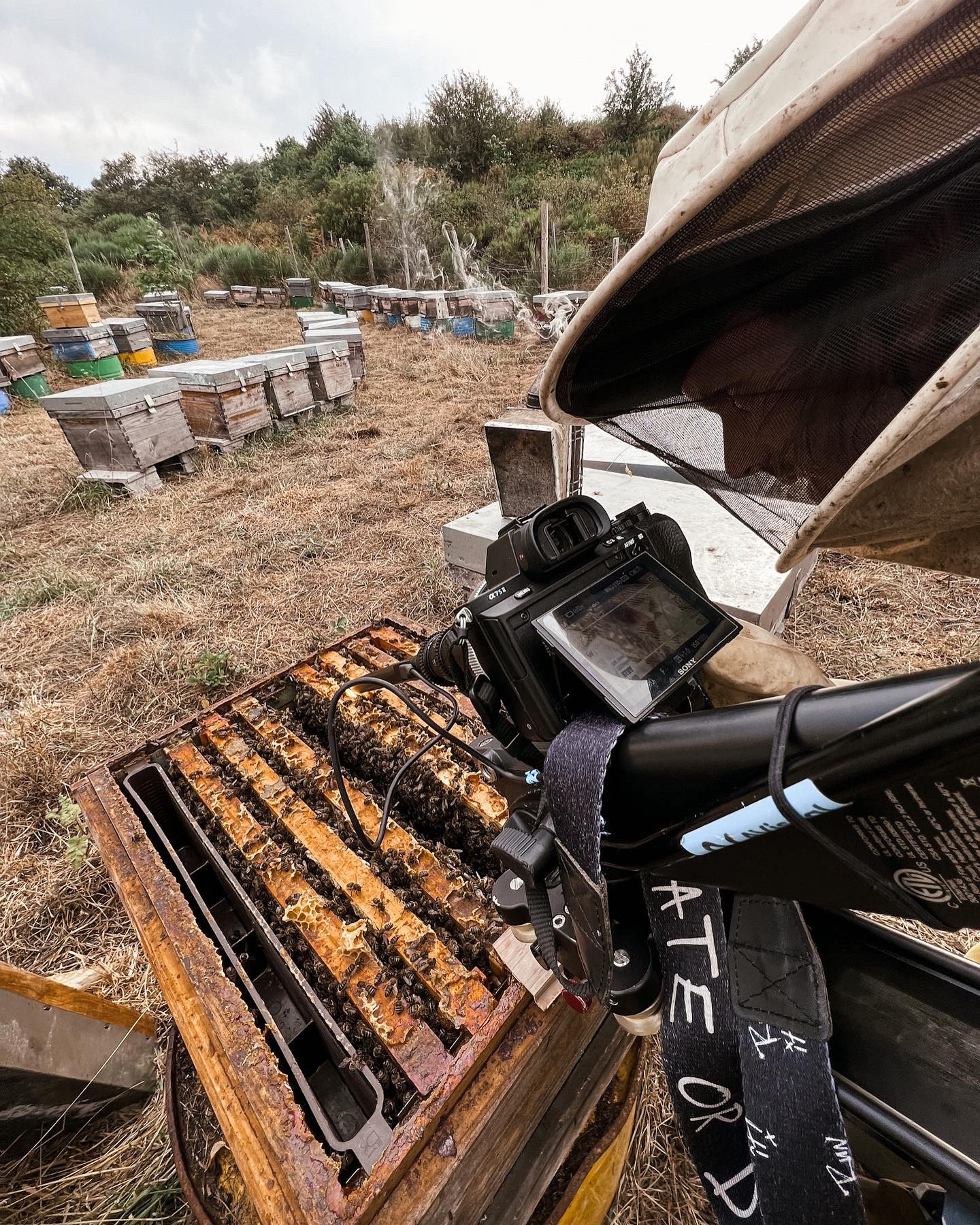 A Rufaca production for National Geographic España
Director and Producer: Caitlin O'Rorke
Production Assistant: Pere Oliva
Camera operators: Caitlin O'Rorke y Pere Oliva
Dron Operator: Pere Oliva
Video editor: Caitlin O'Rorke
Graphic designer: Pere Oliva
Voice Over: Caitlin O'Rorke
Graphics Animator: Marc Calvet
Sound Designer: Nacho Urdiain Parrilla
Subtitles: David Martínez, Angela Bustos
Music: Diego Cartón, Pete Thompson, Barnaby Tree and others.