Winner in two categories at the Dare to Dance in Public Film Festival held by the digital magazine
Cultural Weekly
Los Angeles:
- Best Interface of Dance and Camera
- People Choise Award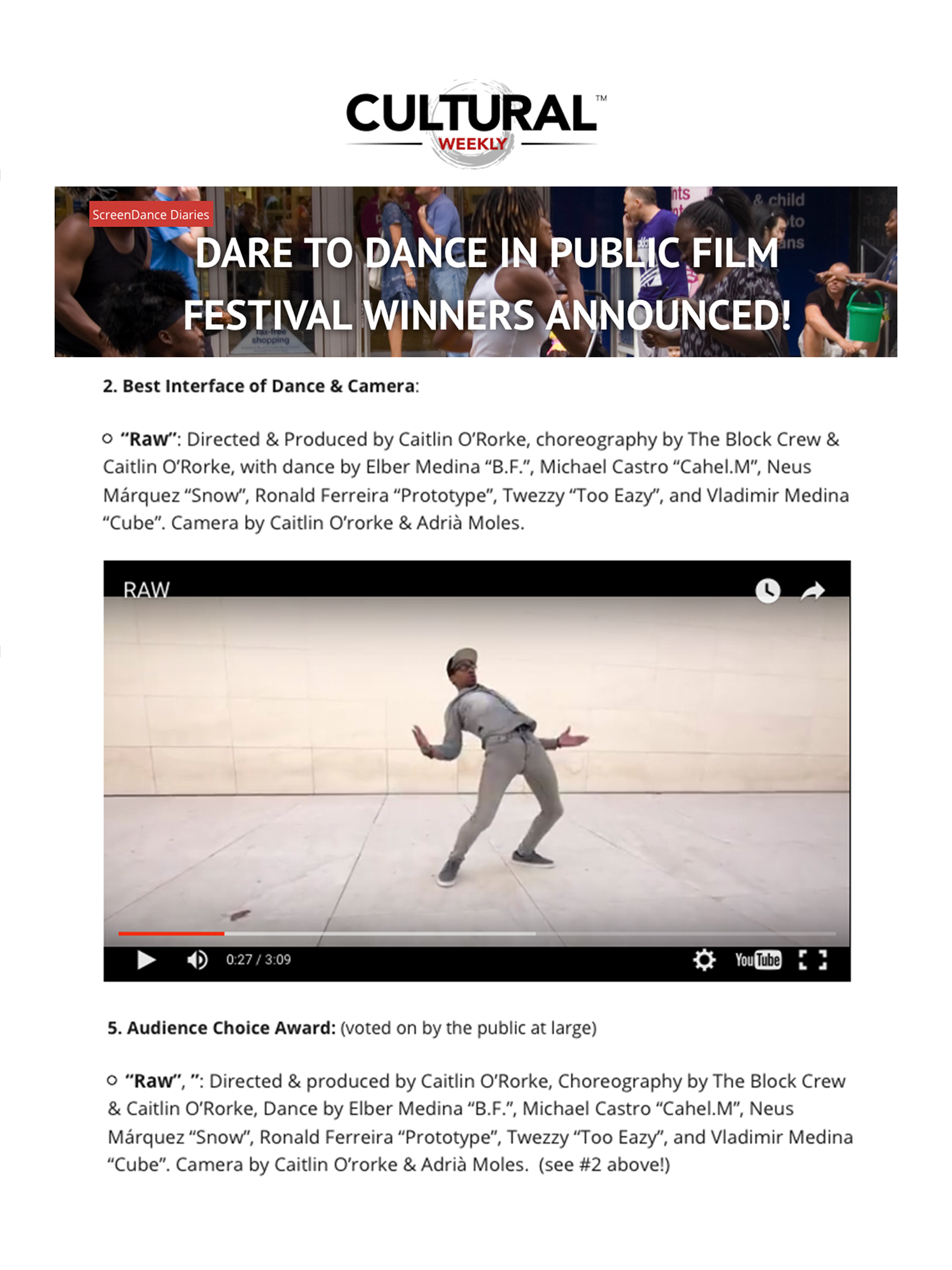 DESCRIPTION
RAW : "Pure. In a natural state, not treated by manufacturing or other processes. Powerfully impressive".
"The Block" is a group of young people who began self-taught dancing in the streets of Barcelona, each one with their own style.
One year ago, Barcelona's Espai Jove Garcilaso (City Council Civic Center), gave them a room in which to practice. And since this point they have been developing, teaching one another.
Dance has given them an outlet to express themselves, but most importantly, it has brought them together, allowed them to find and support each other as a multicultural group.
Ronald is the group representative, the point of contact for everyone. In this audiovisual piece he represents the beginning of a creation of an energy and so he transmits it to the rest of the group, and then from one to the other across the architectonic space of CaixaForum.
The raw dancers draw on a "white canvas" with their energy and movements. They get out the street to transmit their natural force, to demonstrate how they express and who they are, raw pure.
----------------------------------------------
RAW: "Puro. "En bruto", en estado natural, no procesado, modificado o entrenado. Impresionante por su fuerza natural".
"The Block" son un grupo de jóvenes que empezaron bailando de forma autodidacta en las calles de Barcelona, cada uno con su estilo propio.
Hace un año, el Espai Jove Garcilaso de Barcelona, junto con el Ajuntament de Barcelona, les cedió una sala en la que poder practicar, y desde entonces han ido evolucionando, enseñándose el uno al otro.
El baile les ha servido para poder expresarse pero, lo más importante, para poder reunirse, encontrarse y apoyarse cómo grupo multicultural.
Ronald es el representante del grupo, el punto de unión entre todos, es por ello que en ésta pieza audiovisual, representa el inicio de creación de una energía que se transmitirá de uno a otro a través del espacio arquitectónico de CaixaForum Barcelona.
Los bailarines en bruto dibujan con su energía movimientos en un lienzo en blanco, salen a la calle para transmitir su impresionante fuerza natural, para mostrarse tal y como son, para mostrarse puramente RAW.
CREDITS
Dancers "The Block" crew: Elber Medina "B.F", Michael Castro "Chael.m", Neus Márquez "Snow", Ronald Ferreira "Prototype", Twezzy "Too Eazy", Vladimir Medina "Cube".
Original idea by Caitlin O'Rorke.
Choreography: "The Block" crew, Caitlin O'Rorke.
Camera operators: Adrià Moles, Caitlin O'Rorke.
Camera assistant: Pere Oliva.
Production assistant: Helena O'Rorke.
Make up and hair: Estela González, Monica Arredondo. http://www.iki-studio.es/es/
Music: InnerCut "????" (Neonized Records)
Special thanks: Espai Jove Garcilaso, CaixaForum Barcelona, IKI Studio, Helsinkipro.
Copyright © 2016. All rights reserved.